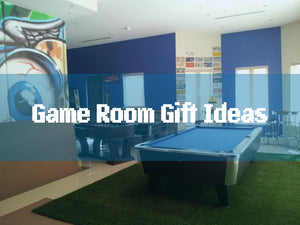 Whether it's a small, newly built space, or a large, full-scale family entertainment room, the game room is a place for fun and relaxation. 
If you're shopping for the perfect holiday gift for someone you know who has a game room, then we've created the list for you. In this post we'll share our top game room gift ideas to help you find the perfect gift!
Arcade Games & Gaming Accessories
There are a lot of different games available that can make any style of home game room even more fun for the entire family. If you're searching for a gift for your own family's game room, then the ideas below are a great place to start!
Refurbished Arcade Machines
Refurbished arcade machines are a great addition to any game room, especially if the room has a classic or retro theme. Whether you already have a small collection of arcade games or are looking to begin - they're an excellent source of fun for the entire family. M&P Amusement has a wide selection of used arcade machines for sale, including classics Ms. Pac-Man, Street Fighter 2, and X-Men.
Pinball Machines
Like arcade games, pinball machines are another great addition to a home game room. We have a large variety of new pinball machines that would make a perfect gift. With a resurgence in popularity, a number of independent manufacturers are producing new machines again. Deadpool fans will love this new pinball machine from Stern Pinball.
Air Hockey Tables
Air hockey is a lot of fun and an easy game to learn! It can entertain everyone from children to adults. Their design makes them simple to maintain and new home models are an affordable option for most budgets. M&P Amusement has several home air hockey table options, including Shelti Games' Home Pro Elite model!
Skee Ball Games
Skee ball is an arcade staple. It's a game that requires both skill and practice. Fortunately, you can perfect your skee ball skills in your own home! We have a range of affordable refurbished skee ball machines available. These games make a perfect addition to a home entertainment room and a great gift! Our refurbished Ice Ball Alley Roller is an excellent home option.  
Game Room Decor
If you're looking for a budget-friendly game room gift for a friend or family member, then there are a number of decor options that fit the bill. Below are a few of our top decor picks!
Game Room Wall Decals
Wall decals are a simple, fun way to add extra character to a game room. They also aren't very costly, come in a range of styles and designs, and can often be customized. If you're purchasing a wall decal as a gift, we recommend choosing a simple design that isn't very large, like these Game Controller Wall Decals by WallDecoCrafts from Etsy.
Wall Posters & Prints
Another fun game room decor option are posters and prints. Depending on the size, material, and framing options, prints are generally pricier than wall decals. But art prints offer another simple yet unique decor option that can make perfect gifts.
With a wide range of options available from a number of artists, it's easy to find the right look. If you're gift shopping, we recommend keeping wall print designs simple, like Eat Sleep Pinball Repeat from Etsy artist RaminiBrandsPrints.
Light-up & LED Signs
Sometimes it's fun to create a specific feel or vibe in a game room. One of the most effective ways to do so is with lighting. There are a wide range of unique light-up signs available that would make an eye-catching accent for any game room. LED wall signs tend to be a little more expensive as far as decor goes, but if you're looking for a one-of-a-kind gift, they're a great choice. Check out this Pac-Man theme LED light sign by NeonBespoke!
Other Game Room Gifts
Everything in a game room doesn't have to involve gaming. Game rooms often serve as a place for multi-purpose family entertainment. Whether that means watching movies, eating, or having a few drinks with friends.
Popcorn Makers
If your game room doubles as a home theater, then a popcorn machine is a great addition. Popcorn makers add a special nostalgic feeling to an entertainment room and make gathering with family to watch movies an even more special experience. There are many options available, but Nostalgia Popcorn Makers are an eye-catching, moderately priced gift option.
Movie Projectors
If screening movies is part of the game room, then a home projector can make movie watching an even more enjoyable experience. Projectors range in visual capabilities from high definition to 4k. They also range in price from several hundred to several thousand dollars. With a number of options available it can be hard to decide which will make the best gift. We'd recommend choosing a projector that is both budget-friendly but quality. For that, the Optoma HD146X is a great choice.
Drinkware
Food and drink often play their part in creating fun experiences with friends and family. Entertainment and game rooms often served a dual-purpose as a spot to hangout and have a few drinks. Some people may even have their own home barcade set-up. If this is the type of person you're shopping for, then drinkware can be a simple gifting option. Can chilling granite coasters are handy, versatile, and make for a unique gift.
More Game Room Ideas From M&P Amusement
We've only scratched the surface of possible gifts. At M&P Amusement, we carry a large selection of other home entertainment and game room items, like arcade basketball machines, shuffleboard, poker tables, and more!
Shop all of our products to find the right gift idea or contact us online with any product questions!