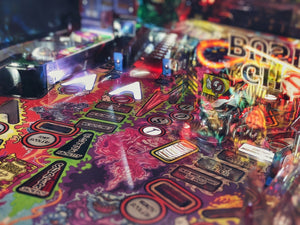 Whether you're considering purchasing a pinball machine for your home game room or your business, there is a lot to consider. A pinball machine is a large investment, and before you spend the money, you should be sure you've done your research. That's why we've created this buying guide. In it, we share five tips to help you make the best decision!
1. Set A Realistic Budget
People often wonder how much pinball machines cost. The answer varies. Purchasing a used machine can save you money. You can find some used pinball machines selling for less than $2,000. However, more collectible and sought-after pinball machines can cost $10,000 or more when fully restored.
Meanwhile, new machines are generally more expensive. They can range between $5,000 to $9,000 depending on the manufacturer and the machine. Some manufacturers will release limited edition or deluxe versions of a standard machine. These may offer extra features and are more collectible.
If you're buying a used machine, especially one on the lower price end, factor potential repair and restoration costs into your budget. A pinball machine for less than $1,000 might seem like a steal, but it could cost another $1,000 in repairs to get it working.
If you're buying new, expect to spend more up-front, but potentially save in repairs on the long run. New machines require fewer repairs, come with a warranty, and are a great option for businesses or arcades.
2. Know Where To Buy A Pinball Machine
Aside from cost, you'll need to think about which type of seller to buy your machine from. There are generally two options:
From other private collectors

From distributors
Buying From Collectors
If you're interested in pinball collecting, there's a large community of fellow collectors happy to help you get started. There are many large pinball community websites where collectors can meet and sell games.
Other owners list machines on sites like eBay and Craigslist. You might find a good deal on these sites; however, most collectors advise against using them as you often don't know who you're buying from. You also have little assurance that the machine you're purchasing will arrive in the condition it's advertised.
If you'd like to buy from a collector, start by joining the community and meet other collectors in your area. This is a great way to get to know who you're buying from. Most collectors are also more than happy to let you test the machine before buying it.
Regardless, the largest downside of buying from a private owner is you don't know exactly what you're getting. If there are any issues with the machine, you're left to fix them yourself. This can be especially frustrating if you're a new pinball owner and this is your first machine.
Buying From A Distributor
Purchasing a pinball machine from a distributor can be a more expensive option, but it comes with several advantages:
Quality refurbishment for used machines

Warranties on both used and new games

A wider selection to choose from

Support in selecting the right game for your home or business
Distributors are most often the first choice for arcades and businesses. A distributor has a wide selection of game titles available and can supply multiple machines. They also provide additional technical support.
For the person who's shopping for a pinball machine for their home, buying from a distributor offers quality assurance. Reputable dealers will always offer warranties, even on used machines. They also perform maintenance and restorations on the games they sell.
If you're interested in purchasing a used pinball machine, M&P Amusement is a trusted arcade game distributor. Shop our inventory of refurbished pinball machines!
3. Research Different Types of Machines
Before purchasing a pinball machine, you should understand the differences between the types of games available. Both in terms of their collectability (or rarity) and in how the machines are built. This is important in determining cost and deciding what's right for your game room or business.
Electromechanical vs. Solid State Pinball Machines
Not all pinball machines are created equal. Older machines, like those made in the 1970s and earlier, are mostly electromechanical (EM). These types of machines generally have more moving parts, like spinning wheels to keep score and bell and chimes to make sound effects. They also rely on switches in mechanical relays to control the game logic.  
Newer machines use solid state (SS) electronics. They're more like modern computers. These pinball machines use circuit boards to control the gameplay. This means the scoreboard and sound effects are digital.
Playtest Both Types Of Machines
Generally, EM pinball machines were limited by technology. This means they tend to offer simpler gameplay than newer machines which could have increasingly complex programming. Some pinball enthusiasts recommend EM machines for new players and collectors because they're seen as more approachable.  
One of the best places to start for someone interested in owning a pinball machine is to try out both kinds of machines. Find out what type you enjoy the most before making a large investment.
Which Is More Reliable?
Between electromechanical and solid state machines, new owners often wonder which is most reliable. Generally, EM pinball games are older than most SS machines. Age leads to additional wear and tear, meaning EM machines are more prone to repairs than their SS counterparts.
However, there's no guarantee that an EM machine will be less reliable than a newer SS model. How well the machine was cared for over the years is the most significant factor in its condition.
4. Make A Wishlist
You've set a budget, found sellers in your area, and did your research. Now it's the fun part: making a wishlist.  
Creating a wishlist is important for a number of reasons. A list can help you:
Stay within your desired budget

Narrow down your list of sellers and distributors

Compare prices and find a fair deal
Your wishlist should be guided by your research. Be sure you've included only the games you've taken time to review. Better yet, playtest the games on your list, if possible. This can help avoid a number of potential issues, including buyer's remorse.
Blindly purchasing a pinball machine, especially for a home game room, can lead to disappointment. Every game is unique, and some are considered more challenging than others. Without a researched wishlist, you might find yourself owning an expensive game that you and your family don't enjoy playing.  
5. Be Sure To Have Enough Room
Whether you're adding a pinball machine to your home or your business, don't forget to factor in the pinball machine's size! A pinball machine requires more space than you might think. 
Pinball games seem smaller in locations like a warehouse or in photos online. Once you get them to their destination, you may be surprised at how big they really are. Most machines are about 32 inches wide by 52 inches deep and around 70 inches, or just under six feet, tall. That's large enough to struggle fitting them through most interior doors.
In addition, pinball machines generally weigh between 200 and 300lbs. So, transporting them up or down stairs can be a challenge. Be sure you're prepared with the proper equipment to make moving your machine easier and safer.
Once they're in place, pinball machines must be level to play correctly. So, you'll also want to be sure the spot you've chosen for your machine is flat and leveled.
Lastly, pinball games can be quite loud. Solid state machines allow you to adjust the volume, but electromechanical ones don't. So, choose a spot where excessive noise won't be an issue.
Find The Perfect Pinball Machine
Whether you're shopping for your first home pinball machine or looking to add another to your arcade, M&P Amusement is a trusted distributor of arcade games. We offer an assortment of new and used pinball machines. Our used machines are expertly restored and come with a 90-day warranty and free phone support for life. Shop our selection of pinball machines to find the perfect game for your needs.