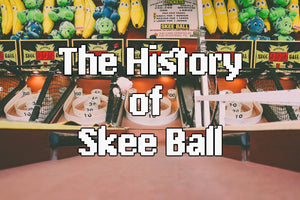 It's a familiar sight and sound: a dense wooden, apple-sized ball rolling up an inclined lane and launching toward a bullseye of rings. Digital scoreboards flash and electronic bleats blare from speakers. At arcades, amusement parks, and even on the boardwalk, many people have fond memories of playing an age-old classic: skee ball. 
It's a simple game that dates back over 100 years. In this post, we'll explore the rich history of skee ball.
Skee Ball's Invention
Skee ball has been a staple of arcades for decades. But there was a time when skee ball was both new and struggling to take hold. The story of skee ball begins with a career inventor searching for a big break.
Joseph Fourestier Simpson Invents Skee Ball
In 1907, Joseph Fourestier Simpson was living in Vineland, New Jersey and trying to invent the next big thing. After several other inventions failed to gain momentum, Simpson took note of the quickly growing amusement industry, including the rapid growth of other games, like very early iterations of pinball.
Looking to profit from the amusements trend, Simpson filed a patent for a game he had invented. This game, which he called "Skee Ball", was officially granted U.S. Patent #905,941 on December 8, 1908. He soon licensed the rights to two business partners: John W. Harper and William Nice Jr. 
The Skee-Ball Alley Company 
John W. Harper and William Nice Jr. created the Skee-Ball Alley Company in 1909. By April of that year, they had started advertising the game in Billboard magazine. However, sales grew at a crawl. 
In 1910, Nice passed away leaving only Harper to manage the company. Significantly in debt and living with friends, Harper and The Skee-Ball Alley Company were on the verge of bankruptcy after several years of poor sales. Fortunately, a Princeton University graduate and future war hero stepped in to save the company and the game. 
Skee Ball's First Fans
John Dickinson Este was a graduate of Princeton University. He was also an early fan of skee ball. Incorrectly credited as the inventor of skee ball for many years, Este actually discovered the game in 1910, allegedly while looking for a gift for his son. Este quickly fell in love with the game, and, in 1913, helped Harper save the Skee-Ball Alley Company. 
Atlantic City and The J. D. Este Company
In an effort to build a market for the game, Este installed skee ball machines in locations close to Princeton University. These games initially attracted an audience and did well, but eventually the novelty wore off. Deciding more drastic action was needed, Este purchased the "Skee Ball" patent and its rights from Simpson. 
Now with full ownership of skee ball, Este founded The J. D. Este Company. Until this point, the game had been unable to take hold in the amusements market. Este was determined to change this.
In the same year he founded the company, Este installed skee ball machines in a rented space on Atlantic City's boardwalk. He coupled this with an aggressive marketing campaign, placing advertisements in newspapers throughout the East coast. Soon, buzz grew and a market for the game quickly emerged. 
Gaining Popularity  
By 1915, skee ball tournaments with hundreds of players were held in locations like Atlantic City. Skee ball became so popular that some cities, including Atlantic City itself, placed restrictions on when "noisy amusements" could be played to curb the disruption the game allegedly caused.
Soon after skee ball's initial success, Este went off to fight in World War 1. Upon his return as a hero pilot, he sold the company and "Skee Ball" rights to new owners. The rights to "Skee Ball" would change hands several more times over the ensuing decades, but the popularity of the game wouldn't wane. 
Today, Bay Tek Games, Inc. owns the official rights to Skee-Ball. They manufacture new machines from their headquarters in Pulaski, Wisconsin.
Looking for a classic skee ball game for your home or business?
Skee Ball's Lasting Appeal
Unlike other amusement games which increase in complexity as technology advances, skee ball has remained virtually unchanged for more than a century. Originally, skee ball lanes were 32' long and rolling the ball towards the bullseye required more force, but it soon was shrunk down to its current range of 12' to 14'. That has been the only significant change in its history. 
As we entered the digital age, the game adopted modern features - electronic scoreboards, sound effects, and lights - but its core gameplay has remained the same. Maybe that's what has led to its longevity.
Regardless of age, skee ball is easy to pick up and play. But, like any good game, it takes time and skill to master. Above all else, however, its simplicity is what drives skee ball's lasting appeal. There's something innately satisfying about accurately throwing or rolling a ball to hit a target and score points. Many sports are built around this experience. 
Joseph Fourestier Simpson likely never imagined his game would spread across the globe and continue to be played over a century later. Yet, skee ball continues to remain a popular amusement game. 
Find Your Perfect Skee Ball Machine 
Whether you're shopping for new games for your amusement venue or looking to add something fun and unique to your home, M&P Amusement has a great selection of new and used skee ball machines. Shop our selection of skee ball games and order online today!
Have questions or need help finding a specific game? Give us a call at 717-887-5293 or contact us online for assistance.