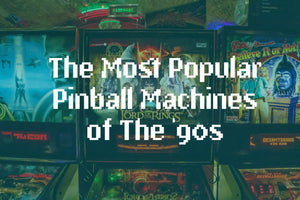 Pinball machines have a long and varied history, from the first commercial success in 1931 to today's complex machines that bank on the high-tech paired with nostalgia.
One of the most significant times for pinball, however, was during the pinball renaissance of the 1990s. During this decade, arcades were filled with video games that once again drew crowds. This was also a time that bore some of the most popular pinball machines of all time.
Curious about which pinball machines were the biggest hits? Here are the five most popular ones that you may remember from the days of the '90s pinball boom.
Addams Family, Bally 1992
This pinball machine tops most lists – and for good reason. With over 20,000 units sold, Addams Family is considered the top selling pinball machine of all time.
What made it such a universal favorite? It's the perfect combination of features: easy to learn yet difficult to master playfield, a flashy yet still slightly camp aesthetic, and simply plain fun gameplay. It also features rich sound effects, including the voices of the main actors of the 1991 film on which it is based for yet another layer of delight.
Star Trek: The Next Generation, Williams 1993
Another tie-in to a successful movie and television franchise, this widebody pinball machine sold almost 12,000 units.
In addition to its one-of-a-kind three high score lists, it also has multi-ball play, a long spiral ramp, and of course, Patrick Stewart's voice to encourage the player. Of course, the appeal of Star Trek was monumental during the '90s, due in part to The Next Generation itself. It's no wonder the pinball machine based on the series was such a huge success and tops many collectors' lists.
Medieval Madness, Williams 1997
No collection of most popular pinball machines would be complete without this knightly themed game. With a playfield that includes an animated castle, lowering drawbridges, a catapult, and not one but two trolls, it's no surprise this machine is so beloved.
Medieval Madness sold over 4,000 units in part because of its missions and multi-ball playing action. Here's a fun trivia fact: one of the voices featured on the game is a young Tina Fey, back when she was a member of Second City in Chicago.
Monster Bash, Williams 1998
Horror games were all the rage in the '90s. Hits like Resident Evil and The House of The Dead heralded a zombie boom that is still raging three decades later.
Monster Bash piggybacked on the love of classic Universal Studios monsters, like Frankenstein, Dracula, The Mummy, and the Creature of the Black Lagoon. Over 3,000 units were produced, and the game had a fun "phantom flip" feature which allowed the game's computer to take over flipper action for a supernatural playing boost.
Lord of the Rings, Stern 2003
While technically a latecomer to the pinball renaissance of the 1990s, this machine was a winner for Stern, one of the only companies to survive the downturn of the industry after home video systems started giving arcades a run for their money. 
Lords of the Rings allowed players to go on their own quest for the ring. It even featured the voices of actors from the movies. Stern produced close to 5,000 units of this quest-themed pinball machine which, to this day, offers the highest score multiplier of any pinball game.
Shop New and Classic Pinball Machines At M&P Amusement
Did your favorite machine make this list? If you want to add any of these or other classic pinball machines to your collection, contact M&P Amusement. We have both new and used pinball machines and other arcade favorites to amuse and thrill you. Contact us online to learn more about our services.