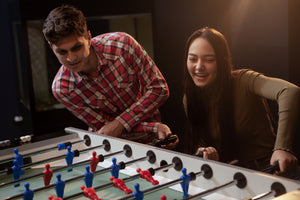 Whether you're using a foosball table as a fun activity at your bar, practice sessions for competitions, or an exciting game to play with your friends or children at home — getting the right table is important. And there are so many different types available: combination game tables as well as tabletop, mini, and kid's versions with adjustable heights.
To help make it easier to find the perfect fit for your needs, learn more about the things you should consider before choosing a foosball table.
Skill Level
If foosball is a new hobby that you or your kids are trying out, you might not need a regulation-size tournament table right away. Start out with a tabletop model and see how much use it's getting before you opt for an upgrade. Plus, you can easily move a smaller table aside when it isn't being played.
A mini foosball table may not stand up to a considerable amount of play, though. They're often designed as a children's toy and lack the features of high-quality home foosball tables.
If you want to learn all about the history of foosball, check out this related article.
Amount of Available Space
Because of its compact size, a foosball table is probably much easier to fit into your home's available game room space than something like billiards, shuffleboard, axe throwing, or a bowling lane.
Foosball tables can vary in size, but standard models are not very big and are usually about 2.5' wide, 5' long, and 3' tall. And you'll need another 4' or so around each side of the table, so people can move around and spin the playing rods.
When selecting your table, make sure to check out how thick the legs and table sides are. Thick, sturdy legs and table sides are good indications of a longer-lasting table.
Foosball Table Cost and Construction
Price is an important consideration for a foosball table. Prices can vary from as low as $150 to as much as $3,000. The difference in foosball table prices often comes down to size and, most importantly, the materials that are used to build the table.
A less expensive table might be made of plastic or particle board. These types of foosball tables aren't built as sturdy and may start to bend and warp over time – particularly if they see regular use. Meanwhile, higher-end tables are composed of composite materials or solid wood, which are much more durable but can be susceptible to expansion in too much humidity.
If you plan on playing outdoors, composite materials may be a safer bet. When indoors, ensure your foosball table is in a room that is climate controlled – storing the table in a hot attic will cause the materials to degrade much quicker.
Material Quality and Gameplay
Materials also affect the speed of gameplay. Softer wood surfaces and solid steel player rods slow down the game, and gameplay is sped up with light, hollowed out rods and a harder surface made of plastic or laminates.
If you decide to buy a used foosball table, make sure to thoroughly inspect it, looking for dents, chips, and unevenness in the playing field as well as bent playing rods and foosball players that may be coming detached.
Foosball Table Maintenance
Foosball table care is an easy process. But it needs to be done every so often if you want your table to last. For avid foosballers who are always using their table, it's recommended to clean it about once a week. Once or twice a month is fine for more casual players.
First, get rid of any dust or dirt with a dry cloth or compressed air, which can also be used to remove any debris that's slipped into the cracks. Clean the table and rod surface with a cotton cloth and rubbing alcohol that's used sparingly. To ensure the rods can spin without getting stuck or squeaky, you'll need to lubricate them with silicone.
The ball has to be easy to grip and roll across the table, so it should be cleaned too. If the ball is in fairly good shape, you can just wipe it with a dry cloth. When sticky debris builds up on the foosball ball, you'll have to add rubbing alcohol or detergent.
If you want to invest in a high-quality foosball table that is built to last, shop M&P's selection of arcade-quality foosball tables. We offer a fantastic selection of coin-operated models and
home foosball tables for sale
. If instead you're looking to add a foosball table to your arcade or business, we also have
coin-operated foosball machines for sale
. Have questions about our products or current inventory? Give us a call at (717)-887-5293.