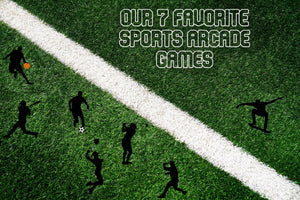 Whether you're a fan of basketball, soccer, football, racing, or skateboarding, playing sports can be a lot of fun. Sports video games give you another way to get in on the action and improve your skills.
People have been playing sports video games ever since 1972 when Pong was first released. This early bare-bones arcade game was based on table tennis.
But the world of sports gaming has come a long way since then, producing all sorts of fantastic games. So, we decided to put together a list of our 7 favorite sports arcade games.
Super Sports Games - NES
Super Dodge Ball and Super Spike V'Ball are both a lot of fun to play. They offer somewhat realistic gameplay with an added effect that's completely over-the-top and comically violent.
In the international competition of Super Dodge Ball, your team captain can do a power shot that makes the ball flatten out before it smashes the opposing team member in the face. In Super Spike V'Ball, you're able to launch your player into the air to perform a powerful spike.
NBA Jam
NBA Jam allows you to pick the two players that represent your favorite NBA franchise. In four short periods, you try to score the most points.
This is a ridiculous sports game — it is in no way a realistic take on the game of basketball. If you go on a hot streak, the ball catches on fire, allowing you to do all sorts of crazy dunks. There's a windmill dunk where the player jumps as high as the backboard, comes down, and slams the ball into the hoop. Plus, the announcers have some iconic catchphrases, like, "Boom-shaka-laka" and, "He's on fire."
Punch Out!
This game has all the action of a heavyweight boxing match in a much shorter amount of time. Punch Out! allows you to go face-to-face with heavyweight fighters who happen to have ridiculous names, like Glass Joe, Kid Quick, and Mr. Sandman.
Your see-through character lands body blows, uppercuts, lefts, and rights on the opposing boxer until they go down for the count. What makes Punch Out! so unique is, for the time, it was a difficult game that came as close as gaming technology would allow to simulating actual boxing.
Sure, by today's standards it is a little silly, and games like Fight Night have long since usurped that throne, but Punch Out! was truly remarkable for its time. 
Madden Football
If there's one person whose name is synonymous with sports video games, that person is John Madden. The first John Madden Football came out in 1988, and there are 40 different versions of it today.
The Madden arcade game allows you to easily grab the joystick and get in on some fast and fun football action. You can get play call recommendations from Madden, and there are different settings, like molasses, that allow you to get a leg up on the competition. Plus, the bonus play in this popular football arcade game gives you an extra chance to play five-on-five and score a touchdown.
Tony Hawk Pro Skater
Regardless if you can skateboard in real life, Tony Hawk Pro Skater games are a lot of fun. You get to play as your favorite professional skater as you perform all sorts of sick aerial moves, board slides, and grinds.
There's a cool grittiness to the game series because of its color palette and levels. Players skate in a variety of locations, from the classic abandoned warehouse levels to night time sessions at the skatepark. Plus, the soundtracks for the Tony Hawk games are pretty fantastic in their own right.
Super Mario Strikers
Over the years, there have been many different Super-Mario-themed sports video games. That includes the Mario and Sonic Olympics games as well as Mario tennis, golf, baseball, and strikers.
In Super Mario Strikers, you get to play as your favorite Mario character in very ridiculous and painful soccer matches. You might get blasted by bombs, run over by turtle shells, slipped up by bananas, or chomped by Chain Chomp. But you'll definitely hit the wall at some point and get electrocuted.
Golden Tee
Golden Tee Golf arcade game was one of the first golf video games to welcome novice players in the late 1980s. The game gives you a way to predict where your ball will land, based on the power and curve of the shot.
Golden Tee has continued to develop, allowing you to play on all sorts of different courses and get a world ranking on your Golden Tee golfing skills.
Add A Sports Arcade Game To Your Home Or Business
We hope you enjoyed this list of our favorite sports arcade games! If you're looking to add a similar type of game to your home collection or your business, M&P Amusement is a trusted source of quality used and new arcade games. 
Need help finding the right game? Whether you're looking for golf, boxing, or basketball arcade games, get in touch with us today.