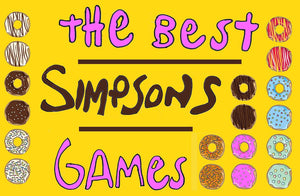 As the longest-running TV show ever, The Simpsons has been a pop culture staple for more than 30 years. The franchise is beloved by the old, young, and young at heart. 
Over the years, the Simpsons has served as the inspiration for 27 different video games. These games have covered virtually every gaming genre and multiple platforms.
Some of these games (like The Simpsons Wrestling and The Simpsons Skateboarding) aren't the best of the bunch. But there have been a number of awesome video games that follow the antics of Homer, Bart, Lisa, Marge, Maggie, and the hundreds of other silly Springfield characters.
Want to learn about some of the very best Simpsons games? This list of our four favorite Simpsons video games highlights some of the top entries without you having to yell out "D'oh!" in frustration.
The Simpsons Arcade Game - 1991
Developed by Konami and released in 1991, this crazy side-scrolling Simpson's beat 'em up was a huge hit! In the Simpsons arcade game, up to four players get to team up and travel around Springfield, trying to rescue Maggie and a stolen diamond from Smithers and Mr. Burns' hoard of henchmen. 
The main Simpsons household is featured as playable characters: Homer punches and kicks enemies; Marge swings a vacuum cleaner; Bart attacks with his skateboard; and Lisa fights with a jump rope. Some of the game's bosses include a bear, a Krusty balloon, and Mr. Burns in a robot suit.
The game was a huge hit and was one of the top-selling games of 1991. Over the years, it's seen several ports to modern consoles, including the Xbox 360 and PlayStation 3. Today, the original arcade cabinet is highly sought after by Simpsons fans and arcade collectors.
The Simpsons: Hit & Run - 2003
A more-kid-friendly Simpsons version of Grand Theft Auto, The Simpsons: Hit & Run was designed by Radical Entertainment
Featuring the open-world gameplay popularized by the Grand Theft Auto series, players started the game playing Homer and driving his classic pink car. Many other iconic Simpsons vehicles also become available, like the Plow King truck, a rocket car, Mr. Burns' limo, and the hideous car that Homer designed with the large bubble domes.
In addition to speeding all around Springfield, you get to go on missions, do time-trial races, and gather money by busting up different pieces of scenery.
The Simpsons: Hit & Run was a huge success, selling over 3 million units by July, 2007. 
The Simpsons Game - 2007
Unlike many of the other top Simpsons video games, this 2007 game wasn't a direct spoof of another game, like Grand Theft Auto or Crazy Taxi. Released in 2007 for the seventh generation of gaming consoles, including the Xbox 360 and PlayStation 3, the game gives players a little of everything as they progress from level to level.
For example, in one level, Homer is chomping his way through a dreamland made of chocolate. In another level, Lisa fights off a bunch of large lumberjacks or Marge assembles an angry mob to protest the new Grand Theft Scratchy game. 
The visual style to this game is very similar to what you see in the TV show, except in a 3D landscape.
One of the most successful Simpsons-based video games, it sold more than 4 million units by January, 2008.
The Simpsons: Night of the Living Treehouse of Horror - 2001
If you're a fan of the Treehouse of Horror episodes of the show, you'll probably enjoy this Gameboy Color game from 2001.
Each level of the game is like a different terrifying tale from the Treehouse of Horror. In one level, you play as Marge fighting off zombies with a ray gun. In another level, you're Bart rescuing Santa's Little Helper from a haunted Simpsons house.
With so many Simpsons games available, there are plenty of options, even a Simpsons soccer game that many fans might get a kick out of.  Whether you're searching for a classic Simpsons arcade game or simply want to add something new to your business, we have all kinds of new and used arcade games and redemption games at M&P Amusement. Shop online or contact us at (717) 887-5293 for more information about our inventory.