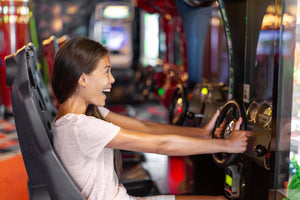 Purchasing arcade games for your business can be very exciting! The challenge is deciding what arcade games are right for your business. Your brain might go right to Ms. Pac-Man, Street Fighter, or The Simpsons, but it can help to consider the different options before you make a purchase.
The arcade games that you buy for a bar are a little different than the arcade games you get for a family restaurant or bowling alley. If you start going through lists of all the different arcade games that are available, it may seem overwhelming. Don't worry because M&P Amusement is here to help you out. Here are some of the best arcade games for different business types.
What To Consider Before You Buy Commercial Arcade Games
Some of the most profitable arcade games of all time include Donkey Kong, Mortal Kombat, NBA Jam, Space Invaders, and Pac-Man. But are these arcade games right for your business? 
If you can find an arcade game that speaks to your target customers, it can be a terrific way to keep customers around longer and bring in extra profits for your company. Whether you decide to get one arcade game or create a whole game room, it could be a very nice addition to your business.
You should also consider how much physical space you have for arcade games. Maybe you have a little alcove in your business that isn't being used. Do you have enough room for skee ball or a basketball machine or is there just enough space for a small single-player arcade game?
Additionally, you should consider whether or not the game fits with the overall feeling of your business. For example, if there is a nice, relaxing feel to your restaurant, you may not want to buy a loud pinball machine.
Arcade Games for Bars
The customer base at a local bar is most likely a little older than the average age of customers at a family restaurant. So, it makes sense for a bar owner to get an arcade game that taps into nostalgia. Social games that require multiple players are also a good fit for bars.
You see pool tables at a lot of different bars that you go to. Maybe you can set your bar apart by adding in something that's a bit different. That might be air hockey, a foosball table, a racing game, an arcade shooting game like Big Buck Hunter, or one of the classics like Teenage Mutant Ninja Turtles and Ms. Pac-Man.
Best Arcade Games for Bowling Alleys
Let's say that your bowling alley business slows down a bit in the summer. Adding some arcade games into your bowling alley can be a great way to draw in families. Maybe you could even host birthday parties. And if parents are bowling, and their game is going a bit long — children can pass the time playing arcade video games.
You might want to include different types of arcade games in order to attract customers of different ages. You could combine an arcade claw machine or air hockey table with a video game or two. Having a variety of games is a great idea for businesses that appeal to family events.
Arcade Games for Restaurants
You may not be trying to transform your restaurant into the next Dave & Busters, but adding some games to your restaurant is a great way to keep customers entertained. With the right games, kids may be begging their parents to come back to your restaurant. If you have a multiplayer game, the whole family can get in on the fun together. Some of our favorite multiplayer arcade games include Teenage Mutant Ninja Turtles, NBA Jam, X-Men, and arcade shooting games.
Shop Arcade Games For Your Business With M&P Amusement
At M&P Amusement, we have decades of experience helping our commercial clients find the best arcade and amusement games for their business.
If you're not sure where to start and are having trouble finding just the right games, please feel free to contact us to learn more about our commercial arcade games for sale and our game rental options. We are here to help make the arcade game buying process as easy as possible for you.