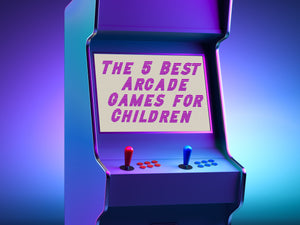 If you grew up loving arcade video games, sharing this hobby with your children offers a great way to connect and bond with them. But what are good arcade games to introduce today's kids to the genre? We'll take you through a few possible starting points in this article.
Pac-Man Games
If your child enjoys mazes, it's very likely that they'll love the Pac-Man and Ms. Pac-Man arcade games. The rules are easy to learn, and the games get more challenging and faster as they go. Additionally, seeing a fun, colorful yellow circle eat pellets and strawberries is a lot less violent than some of the alternative options.
Donkey Kong
It's possible that your child might have already heard of the huge game franchises that are helmed by Donkey Kong and Super Mario. Even though their looks have changed a few times throughout the years, using these familiar characters is a great starting point.
NBA Jam
There are all sorts of different sports arcade games, but NBA Jam is a fun place to start, especially if your child is a basketball fan. The rules of basketball will be familiar. Plus, the players can jump so high, it's almost like they're flying across the screen, like Super Man or Iron Man.
Frogger
Even though the main characters are frogs, the game has the relatable premise of trying to cross a street or river to get home. Similar to the Pac-Man games, Frogger lets you get your feet wet in the game before it starts to speed up and throw all sorts of obstacles at you.
Out Run
The graphics in today's video games have come a long way since the arcade games of the 70s, 80s, and 90s. But certain arcade games were ahead of their time when it came to their graphics and gameplay. 
A lot of the arcade games with the best graphics were fighting and shooting games meant for mature audiences. This is especially true for the 1990s, when these types of games were extremely popular. But we're looking for the best kids arcade games.
If your child has played some modern video games, Out Run might be a good transition to arcade games. This classic game, which came out in the mid 80s, paved the way for some of the best racing games over the years. Players try to speed their way through beautiful landscapes before time runs out.
We hope that this list helps you introduce your child to classic arcade games. 
M&P Amusement is your trusted source for all kinds of new and
used arcade machines
. If you have any questions about our games or pricing, please reach out to us at (717) 887-5293.